We have the tools to help you turn your dreams into realities.
Whether you are on the Web, your iPhone, Smartphone or iPad, you can achieve your Goals & Dreams with our virtual mentor. With your 
AmentorA Dashboard
, you will be able to see your dreams coming to reality. See your daily, weekly and yearly goals. Check up to see if your mentor has work for you to do or just a quick tip. You will also have full access to your account and so much more!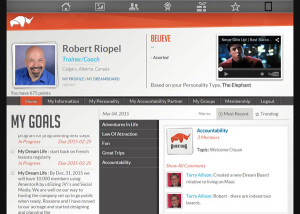 With
AmentorA
, you can also:
Offer encouragement to others.
Watch inspirational videos.
Create custom groups of people with the same interests as you.
Set up daily reminders for goals, motivations, and videos.
Chat with community members.
See success stories.
Build points for cash rewards.
Organize your dreams and actions to achieve your Goals.
Connect with like minded people from around the world.
and so MUCH MORE!!! .